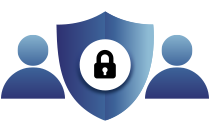 At Bana, our roots are in delivering enterprise Identity, Credential, and Access Management (ICAM) systems to secure missions. We see identity as a fundamental mission enabler — one that reduces friction on information sharing and keeps usability at the forefront.
Our expertise extends beyond a mastery of modern technology concepts in the ICAM space. It includes a deep understanding of how these technologies must work in harmony with policies and governance to truly enable missions.
Bana understands that ICAM technology is only as successful as its adoption. To deliver real value, we help our mission partners establish a common identity definition and speed adoption across the enterprise. Our goal is to support our customers throughout their entire ICAM journey — helping them evolve their systems in step with mission needs.
In doing so, we provide capabilities that support seamless governance, remove COTS complexities, and avoid vendor lock-in. In every identity integration, we leverage best practices in microservice design, DevSecOps, distributed architectures, and containerization to rapidly deliver value from ICAM technology.
Bana's Identity Integration capability provides:
Credential Management
Identity Governance
Access Management
Privileged User Management
Cross-Domain Identities
Identity Enablement
Federation
Non-Person Entity Secure Access
Open-Standard API-Based Access Services
Fine-grained Access Control
Policy Management
Zero-Trust Catalyst